If you've ever found the maps useful for your work or personal use, a small donation shows a lot of appreciation!
Donate with PayPal
Map of Puerto Rico - Flag
PR-EPS-02-6001
2,243
109

Mercator

704 KB

Vector
Standard
28 Nov 2017
Map of Puerto Rico - Flag is a fully layered, editable vector map file. All maps come in AI, EPS, PDF, PNG and JPG file formats.
Flag Map, perfect for presentations or backgrounds.
More Vector Maps of Puerto Rico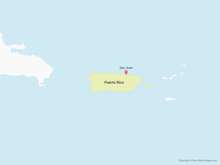 PR-EPS-02-0001
Puerto Rico
PR-EPS-01-0001
Puerto Rico - Single Color
PR-EPS-02-4001
Puerto Rico - Blue
More Vector Maps of Caribbean Islands